What's not to love about summertime? The bounty of fresh produce just makes you want to eat healthier and my Blackened Salmon Salad is just what you need to excite your taste buds while keeping you fit and trim for swimsuit season!
Now that doesn't mean you can't enjoy my Blackened Salmon Salad all year long, it just seems that summertime makes us more health conscious. This would make a great fall or winter salad, especially since berries are available all year long. Not a fan of salmon? This would go great with chicken or flank steak, blackened or unblackened. The choice is yours.
What kind of protein would your family like best on their salad?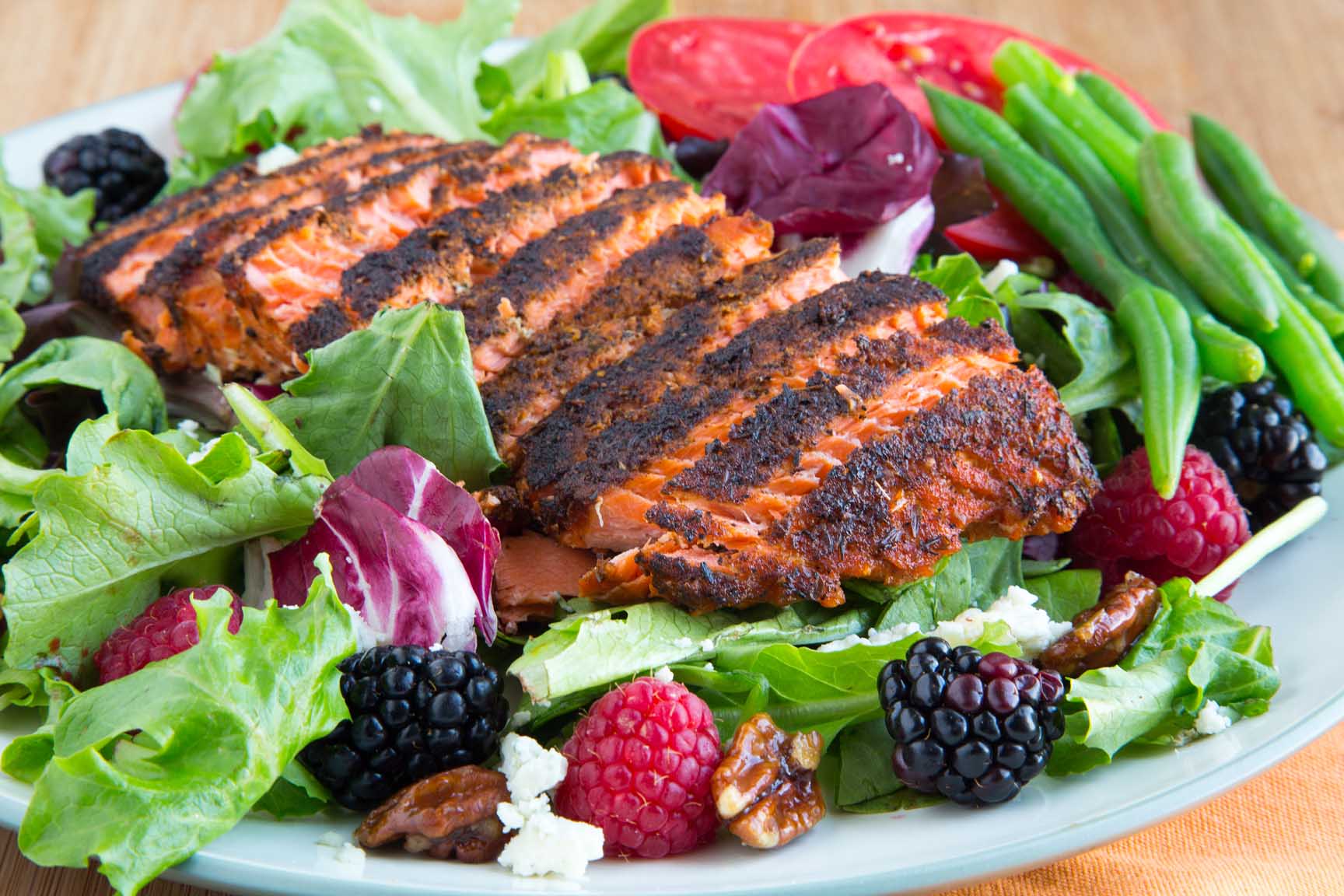 It's not hard being good when you have all of these amazing flavors to enjoy. Northwest Coho Salmon, fresh berries, bleu cheese and candied pecans, now that's a salad! The flavors of the blackened salmon go so well with those sweet-tart berries. Add in the bleu cheese and it becomes a symphony of flavors that your friends and family will love.
To make my plate even more colorful and delicious I added green beans and juicy red tomatoes to my blackened salmon salad. The trick to really enjoying salmon is not to overcook the fish, you want your salmon to be barely done so it stays moist and flavorful. Nothing will ruin a good piece of fish more than overcooking.
How do I make Blackening Seasoning?
If you can't buy blackening seasoning aka Cajun Spice where you live, here is a basic recipe that can be adjusted to your likes.
2 tablespoons paprika (smoked or regular)
1 teaspoon fine sea salt
1½ teaspoon garlic powder
1 tesaspoon ground black pepper
1½ teaspoon onion powder 
1 tablespoon dried oregano
1 tablespoon dried thyme
½ teaspoon cayenne (more if you like heat, but be careful)
If you enjoyed this recipe you might also like these:
Blackened Salmon Salad
What could be better than a healthy and delicious salad?  Add blackened Salmon and fresh berries and you've got yourself a meal to remember!
Prep Time15 mins
Cook Time25 mins
Total Time40 mins
Course: Entree
Cuisine: American
Servings: 2
Calories: 475kcal
Ingredients
12

ounce

salmon filets

2

tablespoons

cajun seasoning

1

tablespoon

olive oil

3

cups

salad mix

¼

cup

blue cheese

¼

cup

toasted or candied pecans

¼

cup

blackberries

¼

cup

raspberries

2

tomatoes sliced

2

cups

cooked green beans

2

ounce

your favorite salad dressing
Instructions
preheat oven to 350 degrees

to candy pecans add 1 tablespoon sugar to sauce pan adding 2 tablespoons of water. Heat over high heat until sugar is completely dissolved. As the water cooks out add the pecans while the mixture is still very liquid. allow pecans to be completely coated as water cooks out then place the pecans on wax paper, separating and allowing them to cool.

remove skin from salmon and rinse in cold water. remove any pin bones that you find in the filet.

coat one side of the salmon filet with your favorite cajun or blackened seasoning.

heat skillet and add olive oil, place seasoned side down and allow seasoning to blacken as the salmon cooks, 2-3 minutes

turn over the salmon and sear the other side for 1 minute

place salmon on baking sheet with a little water and place in oven for 15 minutes

build your with the salad greens on the bottom, sprinkling bleu cheese, pecans, raspberries and blackberries on top of the greens.

Allow salmon to cool slightly, slice and place on top of the greens. Add green beans and tomatoes to the plate and serve with your favorite salad dressing.
Nutrition
Calories: 475kcal | Carbohydrates: 13g | Protein: 39g | Fat: 29g | Saturated Fat: 6g | Cholesterol: 106mg | Sodium: 612mg | Potassium: 1215mg | Fiber: 4g | Sugar: 5g | Vitamin A: 4365IU | Vitamin C: 21.6mg | Calcium: 139mg | Iron: 3.4mg
About Chef Dennis
Chef Dennis is a semi-retired Chef, writer/blogger, photographer, recipe developer and creator of A Culinary Journey with Chef Dennis aka Ask Chef Dennis®.
Chef Dennis worked professionally in White Table Cloth Restaurants for 40 years and has been developing easy to make, restaurant-style recipes since 2009. The second phase of his reinvention from chef to blogger has earned him a place at the Worlds Dinner Table. Join him on his Culinary Journey enjoying his easy to make Restaurant Style recipes and travel adventures.
For more details, check out his About page.
Reader Interactions
This site uses Akismet to reduce spam. Learn how your comment data is processed.