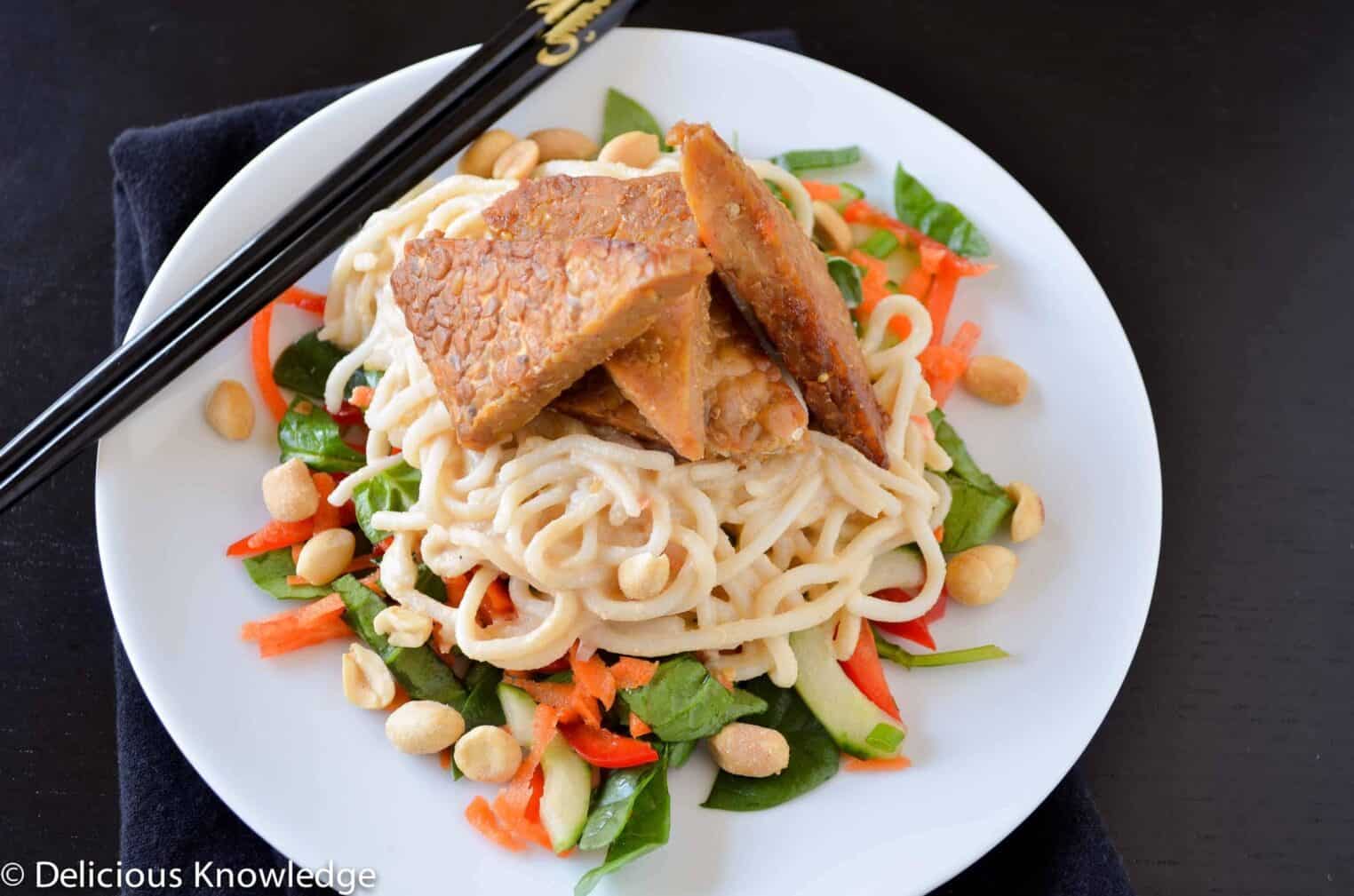 BL often chides me on my OCD-like behavior to decide which restaurant to eat at that night. First, I search the online menu, looking for interesting flavor combinations and of course, veg friendly meals. I will probably look at the menu a few times throughout the day, imagining what I will order that evening and checking my decision against reviews on google and yelp. I promise you, most of the time I know what I'm going to order before we even sit down.
Oh my goodness I wish I was kidding. As I write the above paragraph it has finally dawned on my how crazy I can get about food sometimes.

Please send help.
Anyways, there are a few dishes I am always looking for-korma at Indian restaurants, gnocci at Italian, big, beautiful salads at casual eateries and beets. When beets are in season they are all I want to eat.

Lately though, I've been looking for nuts.
Yes, nuts. I'm not sure what the recent obsession is but if I find a dish that contains nuts, I'm probably going to order it. Hence my recent meals out: pepita salad, banana walnut pancakes, and a weekly treat of peanut butter cupcakes.
Clearly, these noodles were bound to happen. A combination of my all-time love (pasta) and my current fave (peanuts). Set on a crunchy chopped salad for good measure. A match made in DK heaven.
Plus, it's like 3 dishes in one! Fresh salad, creamy peanut noodles and roasted tempeh.

Dig in.
What foods are you currently craving?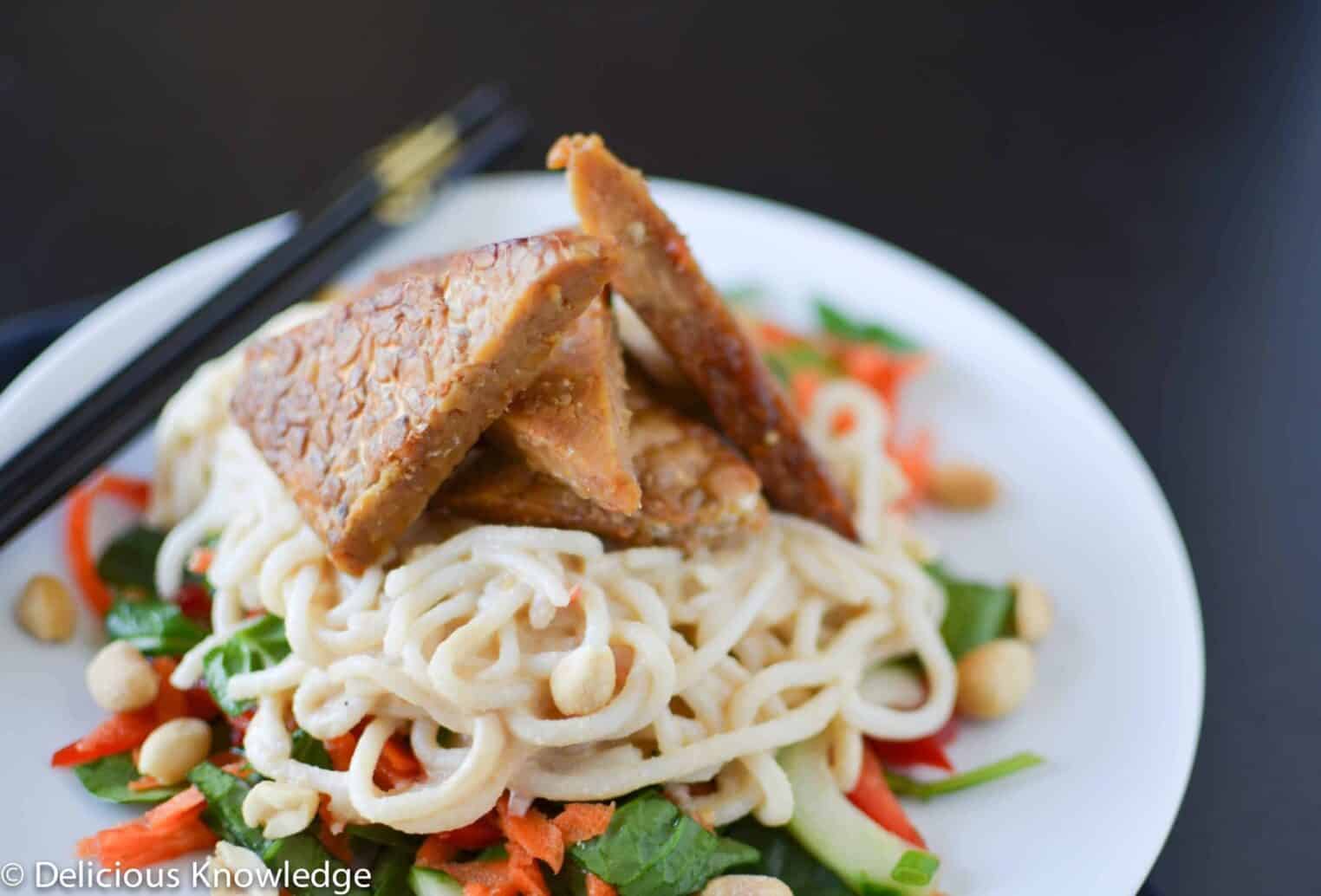 Scale

Ingredients
Peanut Dressing:
1/2

cup

peanut butter

1 tablespoon

tamari

2 tablespoons

rice wine vinegar

1/4 teaspoon

ground cayenne

2

garlic cloves, minced

1 teaspoon

fresh ginger, minced

1/2

cup

water
Salad Ingredients:
1

medium cucumber, peeled and seeded, sliced into

1/2

moons

3

cups

baby spinach

1/2

cup

chopped scallions

1/2

cup

shredded carrots

1

red pepper, sliced into very thin strips

8

oz

. rice noodles or whole wheat linguini
Maple-Ginger Tempeh:
8

oz

. tempeh

3 tbsp

. soy sauce

1/4

cup

pure maple syrup

2 tbsp

. rice vinegar

1

clove garlic

1 tbsp

. fresh grated ginger
Instructions
For the Tempeh:
Preheat the oven to 350 degrees F. Combine all ingredients except the tempeh in a bowl and whisk together.
Slice tempeh into cubes or on the diagonal. For an 8oz. cake, I slice the tempeh into 1/4ths lengthwise, in 1/2 width-wise and then each slice into a 1/2 triangle.
Place tempeh slices into a oven safe baking dish and top with maple-ginger sauce.
If you have time, let sit for 30 minutes while you prepare the dressing and prep the salad ingredients.
Bake for 15 minutes per side, until done.
For the dressing:
Combine all ingredients together in a food processor or high powered blender.
If it's too thick, add a bit more water, 1 tbsp. at a time.
For the Salad:
Prepare the rice noodles as directed on the package. For most, it will be to soak or boil for a few moments until tender, drain, and rinse with cold water.
Toss the vegetable ingredients together and place 1 heaping cup or so onto plates.
Toss 1/2 cup of peanut sauce with rinsed noodles. If you need more dressing, add it!
Top salad with noodles and top with cooked tempeh.
Garnish with cilantro and/or roasted peanuts.
Meet Alex Caspero
Alex Caspero is a Registered Dietitian, New York Times Bestselling Plant-Based Chef and mom of two. She aims to cut through the nutrition noise by providing real-life, nourishing tips for body and mind. Learn more about Alex.