Appetizer Recipes, Mardi Gras Recipes, Sandwiches
Last updated on May 15th, 2023
Bite-sized mini muffuletta sandwiches are loaded with sliced meat, cheese, and salty olive salad. These appetizers are loaded with a taste of New Orleans.
I'm not gonna lie.  I don't care who wins the Super Bowl.  I'm not a big NFL watcher.  Or a big football watcher.  Okay, so I'm not a big sports watcher.  Last year I kinda got into it because the Saints were playing.  They are the closest NFL team we have and there was what whole underdog, Hurricane Katrina thing that I can relate to.  But Pittsburg and Green Bay are a LOOONG way from Mississippi.  If someone invites us to a Super Bowl party I'll go, and I'll watch, but I'll mostly be going for the food.
Speaking of food . . .
This would have been much more appropriate last year since it has to do with New Orleans.  But I'm sure a Packers or a Steelers fan can still appreciate a good muffuletta.  If you've never sampled one of these giant submarine-style sandwiches, you are in for a treat. Salty and savory, they are good to the last bite.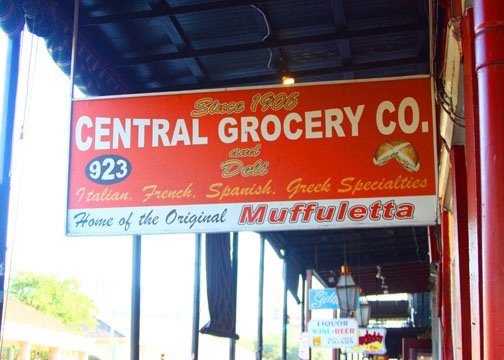 A lot of restaurants offer their version of the muffuletta, but it originated at Central Grocery in the French Quarter. This is where I had my first muffuletta. They are as big around as a dinner plate and several inches thick – my mother and I split one and we still couldn't finish it. Not only are the sandwiches delicious, but Central Grocery is just a neat place in and of itself.
I did a little research on the history of Central Grocery and its signature sandwich. And because I'm feeling lazy and don't want to be bothered with paraphrasing, here is what Wikipedia had to say:
"One of the most interesting aspects of my father's grocery is his unique creation, the muffuletta sandwich. The muffuletta was created in the early 1900's when the Farmers' Market was in the same area as the grocery. Most of the farmers who sold their produce there were Sicilian. Every day they used to come of my father's grocery for lunch. They would order some salami, some ham, a piece of cheese, a little olive salad, and either long braided Italian bread or round muffuletta bread. In typical Sicilian fashion they ate everything separately. The farmers used to sit on crates or barrels and try to eat while precariously balancing their small trays covered with food on their knees. My father suggested that it would be easier for the farmers if he cut the bread and put everything on it like a sandwich; even if it was not typical Sicilian fashion. He experimented and found that the thicker, braided Italian bread was too hard to bite but the softer round muffuletta was ideal for his sandwich. In very little time, the farmers came to merely ask for a "muffuletta" for their lunch."
New Orleans is about three hours from where I live. Obviously, that's a little far to drive for a sandwich, so when I have a craving for a muffuletta I make this homemade version. I won't claim to have recreated the Central Grocery masterpiece, but it is tasty. If you don't feel like making your own homemade olive salad, use a jar of store bought. I have done this many times and it works just as well. These make great finger foods for tailgating or your Super Bowl party.
Bite-sized mini muffuletta sandwiches are loaded with sliced meat, cheese, and salty olive salad. These appetizers are loaded with a taste of New Orleans.

Prep Time 1 day day
Total Time 1 day day
Servings 6
Author Lisa B.
Sandwiches:
1

long baguette or ciabatta loaf

about 12 inches

1

cup

olive salad

recipe below

4

ounces

sliced salami

4

ounces

sliced provolone cheese

4

ounces

pound sliced mortadella or ham

4

ounces

sliced mozzarella cheese

4

ounces

capicola or sliced proscuitto
Olive Salad:
3

cloves

garlic

1

cup

green olives

1

cup

black olives

2

tablespoons

pimentos

2

tablespoons

parsley

3/4

cup

olive oil

2

tablespoons

white vinegar
For the sandwiches:
Cut baguette in half lengthwise.

Spread olive salad over the inside of both lengths of bread.

On the bottom half, arrange salami, followed by a layer of provolone, ham, and finally mozzarella. Arrange top half of baguette over sandwich.

Cut sandwich into 3-inch squares. Secure each section with a toothpick.

Arrange sandwiches on a platter, cover and refrigerate for at least 2 hours, preferably overnight.
For the olive salad:
Combine garlic cloves, olives and pimentos in a food processor. Pulse until ingredients are coarsely chopped. If you do not have a food processor, ingredients will need to be chopped by hand.

Pour in olive oil and vinegar. Continue to pulse until oil and vinegar are well incorporated.

Transfer to a medium bowl, cover with plastic wrap, and allow to stand overnight.