This easy recipe for roasted vegetable egg salad is a hearty variation on this lunchtime favorite, adding warm and healthy roasted veggies!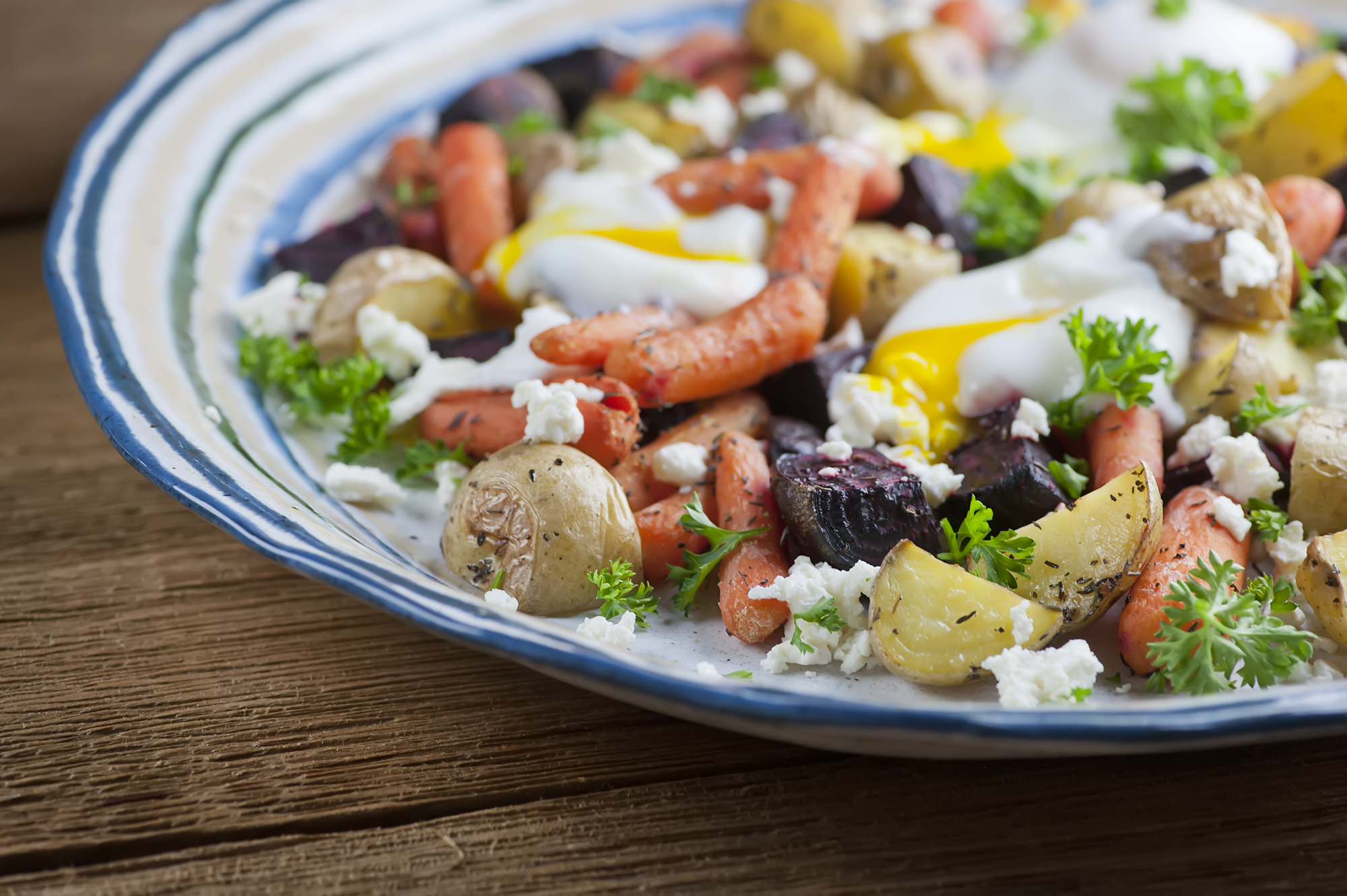 There's something about roasting vegetables that is just some kind of magic.
Not that there is anything wrong with a plain old raw carrot, but when you take that same carrot, mix it up with some little potatoes and some beets and toss the whole thing with a little olive oil and salt and roast it until everything is warm and tender on the inside and a little crispy on the outside…that is Vegetable Magic.  And when you add in some cheese and top the whole thing off with a poached egg…hello, GORGEOUS!
Ready to give a whole new meaning to egg salad?  Let's make it!
I am always up for a good egg salad – my torn egg salad is my egg salad favorite – but when the weather starts to chill down I love to give pretty much everything I'm making a warmer vibe.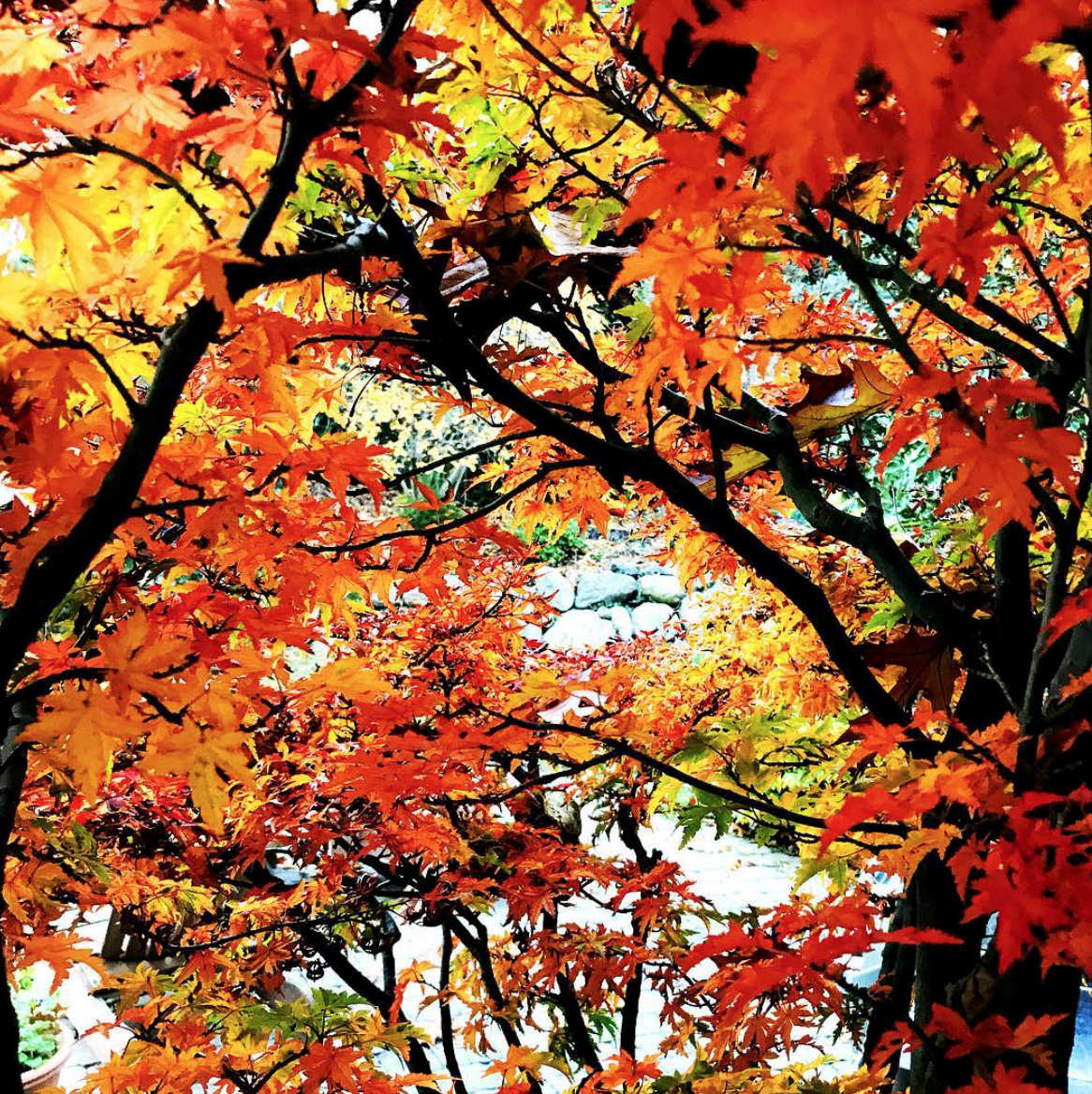 And speaking of cooler weather, the little maple tree outside my kitchen door is just plain showing off this year.  So pretty!
Here's how you make roasted vegetable egg salad!
You are going to roast up some carrots, beets and little potatoes with some salt and pepper and a handful of thyme, and while the roasting is happening you can poach the eggs.  If you are hesitant about poaching eggs, let me tell you that I was once a fearful egg poacher myself.
Then I worked up a guaranteed method to make them come out perfectly Every Single Time (click here for that) and now I can have a poached egg any old time I want.  So can you!
So poach yourself up a couple for this recipe, okay?  And if I haven't talked you into it, this recipe works just fine with fried eggs too.
Once the veggies and the eggs are ready, it's time to put it together.  If I have lettuce around I make a bed of it for the roasted veggies to go on, and if not I just put them right on the plate.  I like to dress up the veggies with either a drizzle of Caesar dressing or a handful of feta cheese just to give it a little zing.
Now pop that egg on top, break it so the egg yolk melts down onto the veggies, and there you have it – a whole new spin on egg salad!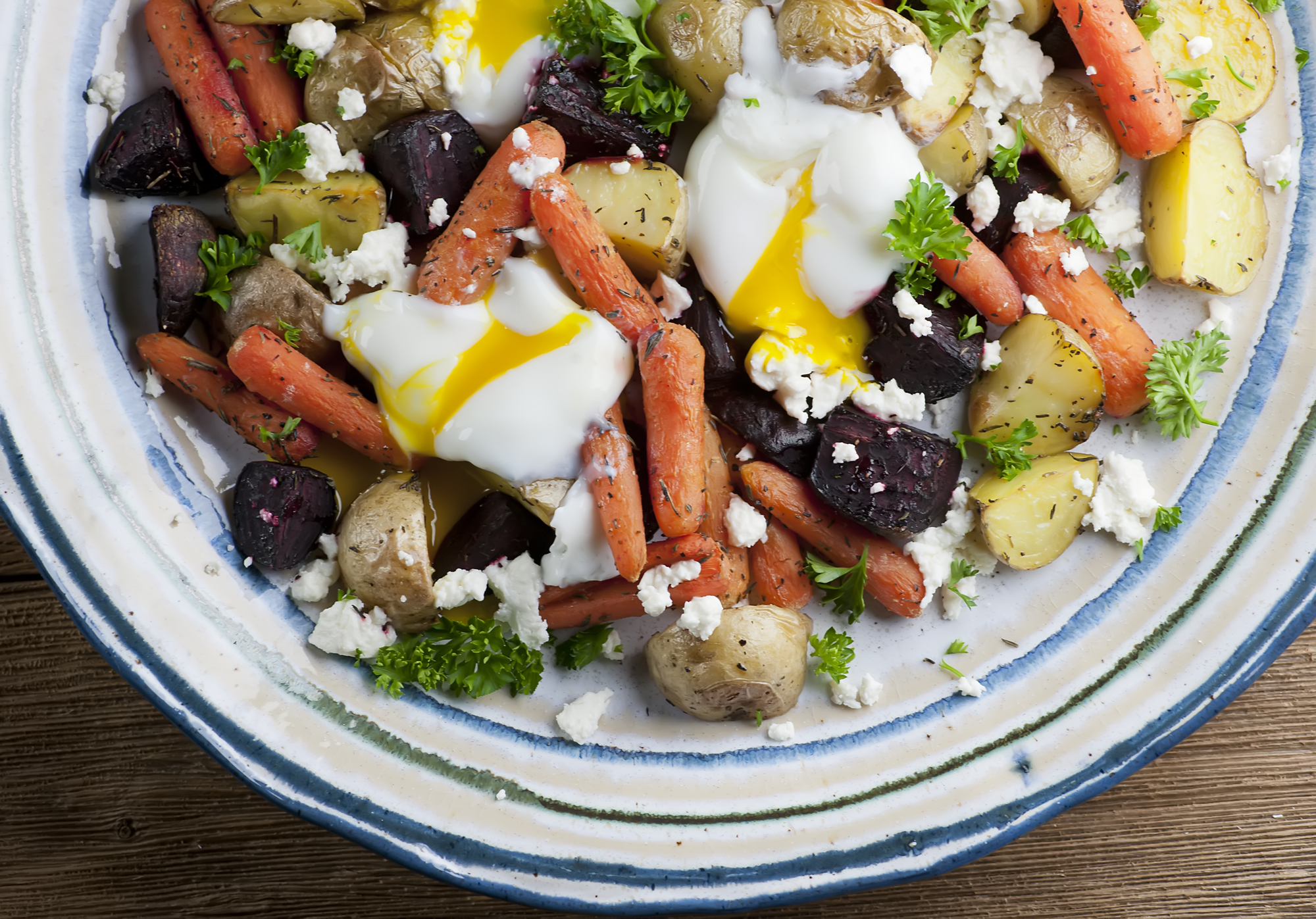 I like to serve this as a light dinner, but it is also a great fancy first course if you are serving a main course that doesn't include many veggies. Here's a quick video to let you see how super easy this scrumptious salad is…
I'll let you get to roasting now…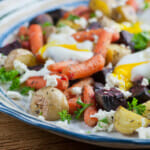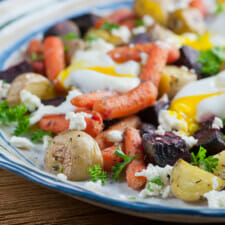 Roasted Vegetable Egg Salad
---
Description
This easy recipe for roasted vegetable egg salad is a hearty variation on this lunchtime favorite, adding warm and healthy roasted veggies!
---
Ingredients
2 cups

carrots (either baby carrots or regular carrots sliced into rounds will work)

10

baby or fingerling potatoes, scrubbed and cut in half

3

–

4

small beets, scrubbed and quartered

2

–

3

sprigs of fresh thyme

2 tablespoons

olive oil
Pinch each of salt and pepper

2

eggs, poached or over easy
Caesar salad dressing or 1/2 cup feta cheese (see note)

2 cups

torn romaine lettuce (optional)
Fresh parsley for garnish (optional)
---
Instructions
Heat oven to 425 and line a rimmed baking sheet with foil.
Toss carrots, potatoes and beets together with oil, thyme and a pinch each of salt and pepper. Spread in a single later on baking sheet and roast for 30 minutes.
If you are serving this on lettuce, divide it among two plates.  Top with roasted veggies. Drizzle with salad dressing or sprinkle with feta and put a poached egg on each. Sprinkle with parsley if using.
Break yolk and serve at once.
Notes
I've made this salad both with Caesar salad dressing and with crumbled feta, and I love both!  The Caesar dressing is a stronger flavor, while the feta lets the egg act as the "dressing."  I highly recommend trying both!